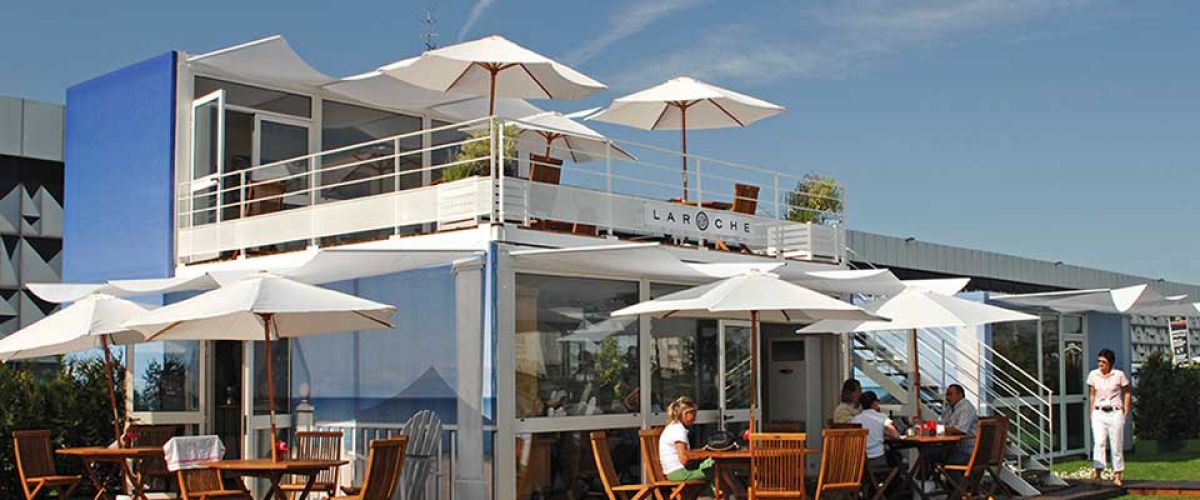 CONTAINERS FOR EVENTS
At Algeco we offer you modular containers of last generation, perfect for the events of your company, which satisfy the most demanding requirements of aesthetics, comfort, space and safety. Modular spaces for events realized by Algeco offer an efficient and rapid response to the need for installation, uninstallation, housing structures, stands and exhibitors for trade fairs and competitions or musical events. For over 10 years in Romania we have specialized in containers for events such as fairs, congresses, conventions and a multitude of other events. We offer innovative solutions for congress containers and for trade fairs, meeting the highest expectations in terms of design, quality and compliance with current standards.
THE BENEFITS OF ALGECO CONTAINERS FOR EVENTS
Our range of event containers is distinguished from other construction facilities by its versatility and reliability. Each unit is individually adapted to highlight the particularities of any type of event, these structures having a number of common advantages and characteristics:
Resistance
Containers for events, despite their adaptability, are specially designed to withstand the heavy flow of people and adverse weather conditions.
Durability
Algeco constructions guarantee the respect of the environment by selecting materials and construction techniques and by low pollution, compared to the traditional constructions. Production in controlled environments, reducing the volume of waste, reducing dust emissions and noise pollution levels are the basis of the quality management applied within the company.
Profitability
Event containers are designed for reuse at various fairs and exhibitions, allowing you to amortize your initial investment and optimize your company's resources by intelligently managing them. The main uses of Algeco modular containers are exhibitions, booths for shows, fairs, showrooms, accreditation points, sales and information, facilities for broadcasting or television, VIP reception rooms, bars and / or access control. Algeco supports the organizers to ensure the realization of any project according to the agreed terms. To be able to enjoy all the comfort we provide 360˚ services such as:
Consulting
Projection
Construction
Maintenance
Mobiier
Water supply systems and wastewater collection
Electric generators and lighting systems for remote locations
Guard services tailored to your needs
Cleaning and maintenance services
All environmentally friendly, sanitary containers with showers